Tree Spirits
Tree spirits are ancient and wise, offering healing magic, wisdom and insight. A tree spirit is a type of nature spirit, and effectively the "living soul" of a tree. It has much in the way of wisdom and healing to offer those who are willing to listen and absorb.

Tree spirits are not faeries as such, but nature spirits within a tree. One famous image is that of the Ents in The Lord of the Rings by J.R.R. Tolkien, but true tree spirits are more ethereal in their appearance.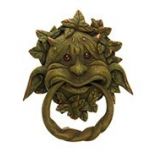 Tree Spirit Dryad Door Knocker. This door Knocker measure approximately 18cm Tall x 14cm Wid..
View Product
Showing 1 to 1 of 1 (1 Pages)