Fragrance Lamps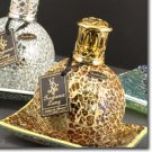 The Ashleigh & Burwood Fragrance Lamp is the ultimate product to refresh the home!
These fragrance lamps represent quality, luxury and above all style.
The stunning ornamental fragrance lamps utilise a century-old catalytic combustion technique that filters airborne odour-causing molecules.
In addition the fragrance contained within the fragrance lamp is emitted to provide a gentle fragrance to the room. The fragrance lamp compares favourably to other room fragrance products and is a most efficient diffuser of fragrance, spreading it evenly and quickly around a room.
Independent tests conducted for Ashleigh & Burwood give the following results for destruction of airborne microorganisms: Dust mites – 99% mortality rate Escherichia coli bacteria (E. coli) – 99% mortality rate Five types of mould spores Aspergillus niger – 61.5 % mortality rate Eurotium amsterdami – 79.6% mortality rate Stachybotrys chartarum – 99.9% mortality rate Penicillium crustosum – 99.9% mortality rate Chaetomium globosum – 99.9% mortality rate.
Please note that each of our Fragrance Lamps is individually handcrafted, and each piece is therefore completely unique - no two are ever identical. We have taken as much care as we can to ensure that the photographs on our website represent each Lamp as closely as possible. Please bear in mind that different computer monitors are calibrated differently, and this can affect the colour representation on screen.
Refine Search