Fragrance Oils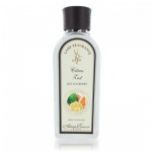 Explore fragrance in your home by choosing one of our hand selected lamp fragrances. Ranging from Sweet & Floral to Spicy & Woody including Essential Oil Blends for the aromatherapy enthusiast.

Fragrance lamps are an incredibly powerful way to fragrance your home, and consequently do not need to be used for extended periods of time. For the optimum balance of room fragrancing with fragrance usage, we recommend to burn your lamp for around 20-25 minutes per time (an average sized room is about 20sqm, so this equates to about 1 minute per m3). You will find that the fragrance in fact lingers in the air for several hours afterwards. Burning the lamp continuously for long periods of time will use your fragrance much faster.

Please note. Ashleigh and Burwood Premium Fragrance Lamps should ony use Ashleigh and burwood Fragrance Oil, use of other fragrances or oils may result in damage to the lamp wick.

Due to charges in the Postal System we are unable to send fragrance oils by post as they are flammable products, should you wish to buy a fragrance oil then please contact us on 01458 830727 to discuss the cheapest delivery option!
Showing 1 to 7 of 7 (1 Pages)