Boxes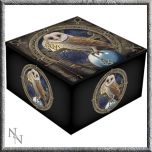 An awesome collection of mirror boxes with the fantasy artwork of Anne Stokes and Lisa Parker.
All boxes are 10cm × 10cm and made of compisite wood, covered in a printed satin feel material featuringfantasy art designs, and lined with a velvet effect material. Inside it has a 7cm × 7cm mirror attached to the lid.
There are no products to list in this category.