Glass Friendship Balls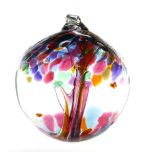 Friendship Balls are beautiful mouth blown hanging glass ornaments with a wonderful sentiment behind them. Traditionally they were made from leftover glass at the end of a shift by glass blowers and given to friends and family as tokens of friendship and good luck.
These beautiful and decorative Friendship Globes can be hung in a window to stream coloured light into a room or hung outside in trees to add more colour to a garden. Each Friendship Globe is hand made and blown by mouth using recycled glass making each friendship globe different.

They make fantastic gifts for friends to show how much you care. Just like friends, each one is unique! They look beautiful hung inside a window where they stream coloured light into the room.
Friendship Globes are known by many names including fairy balls, witches balls, spiritual balls, ornamental balls and kugel balls.

All items come giftboxed with a gift card describing the history of Friendship Balls.
"The Friendship Ball" Poem by Kashif Majeed "A ball is a circle, No beginning, no end. It keeps us together like our Circle of Friends, But the treasure inside for you to see, Is the treasure of friendship you've granted to me. Today I pass the friendship ball to you".
Please note. Due to the uniqueness of these items the actual product may differ to the photograph shown.
Refine Search