Birthstone Friendship Heart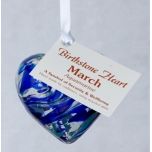 Each Birthstone Friendship Heart is hand made and blown by mouth using recycled glass making each friendship heart completely unique.

Comes complete with giftbox, information card and with a white silk ribbon for hanging and displaying.
Size 8cm
Please note that as each Birthstone Heart is individually Hand Crafted each piece is therefore completely unique - no two are ever identical. We have taken as much care as we can to ensure that the photographs represent each Heart as closely as possible and although the colours will remain the same the patterns may vary slightly due to their unique Hand Crafting.
There are no products to list in this category.