Kingdom Of The Elemental Fairies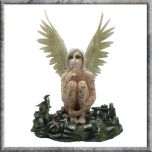 In the southern regions of Faerie, lies the Kingdom of the Elementals, a race of faeries who can trace their lineage all the way back to the Goddess Danu.
The four daughters of the King, Elar Rasdual, were blessed with the power of the basic elements, Earth, Air, Water and fire. So therein the magical adventure begins.........
There are no products to list in this category.