Daisy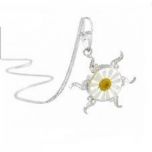 A daisy represents purity and innocence, Daisies are durable - survivor's.
Daisy is often used while confessing undying love. Though the use of flowers for proposing love may be ancient but daisy captures the language of love best with its silence. In earlier days a daisy from a maiden was an honorable gesture and an act of affection.
Some sat that the Daisy means " I'll Never Tell!"
It is also the Birth month flower for April.
There are no products to list in this category.