Dragons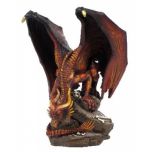 Dragons are legendary creatures, typically with serpentine or otherwise reptilian traits, that feature in the myths of many cultures. Despite having wings, the dragon is generally depicted as having an underground lair or cave, making it an ancient creature of the earth element.
Dragons are often held to have major spiritual significance in various religions and cultures around the world.
All the Dragons we have on offer are made by Nemesis Now of cold cast resin and hand painted. The are gift boxed.
Fairies with dragons can be found on our Fairies page and Dragon jewellery can be found on our Silver Jewellery page.
Refine Search