Angel Figurines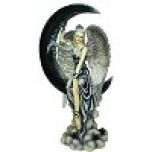 Heavenly Angels, often referred to as guardian angels, are mentioned numerous times in the Scriptures, from that we learn that angels are spiritual beings created by God to serve him, and sent by God to watch over the human race, to deliver his message, to guard and protect us from danger, to do battle with other spiritual beings on our behalf.
Since the beginning of time, angels have delivered God's messages to mankind. Sometimes the messages are warnings of impending danger, sometimes instructions as to what to do in a particular situation, sometimes they are simply "there" as protection from enemy forces.
I don't know about you .... but
I Believe in Angels!
Refine Search