Cherubs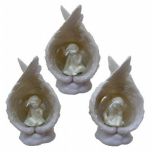 Cherubs are a small angel, portrayed as a child.
Whether you are looking for a special gift for a loved one, something to add inspiration to your home, or a heavenly figurine to brighten up your garden, we have an angel figurine to delight and inspire you!
Each cherub figurine will surely bring you a peaceful remembrance of a time and place where you were able to find comfort and joy in knowing that feeling that you, a loved one, or a friend are not alone and that a guardian angel who loves you continues to keep watch over you, protecting you and guiding you. That feeling that your guardian angel is keeping watch over you is one which you have experienced at least once, right? We know we have had that experience. We like having that comfort especially in times of need for comfort. Here you will be able to find a figurine for almost any need. If you can not find it here be sure to send us an email or give us a phone call and we will try to help you find a suitable equivalent.
There are no products to list in this category.